Silkening souffle' hair/body
A soft emulsion for body and hair with outstanding emollient, softening and nourishing qualities. Its versatile composition makes it suitable as: - hair restructuring mask: deeply nourishing, it makes the hair shiny and strong and helps to protect it from pollution and harsh weather conditions. It regenerates the scalp and has a reinforcing effect on the hair bulb. It makes a perfect SOS package for stressed, brittle hair. - body cream: due to its particular formulation enriched with skin-friendly fatty acids, it helps to preserve the hydrolipidic balance of the skin, keeping it toned, hydrated and deeply nourished.
Bio, Body, Hair, Moisturize, Protect, Nourish
Active substances
Plantaquat nc

conditioning, emollient mix, it contains lecithin, which has good moisturising properties, reduces peeling and helps restore the skin's elasticity. It performs a protective, anti-break action on the hair, reducing split ends and making the hair softer and easier to comb. It also has a volumising effect on fine, brittle hair.

Natural emollient triglyceride

this natural emollient is able to form a lipid film that reduces loss of water from the stratum corneum. It also has valuable moisturising, lubricating, protective, conditioning and softening properties.

Xanthan gum

natural polysaccharide produced by fermentation biotechnology from natural strains of Xanthomonas Campestris. When in contact with water, it forms a gel with excellent filming, moisturising, emollient and toning capabilities.

Vegetable glycerin

highly hygroscopic, it protects the cutaneous water resources, maintaining a optimum moisture level in the epidermis.

Olivo active water leaf extract

anti-oxidant, anti-inflammatory action.
Instructions for use
As a hair mask: Apply on wet hair and spread evenly. Leave for 5 to 10 minutes. Rinse thoroughly. As a body cream: Massage gently into cleansed skin until fully absorbed. Use daily.
Packaging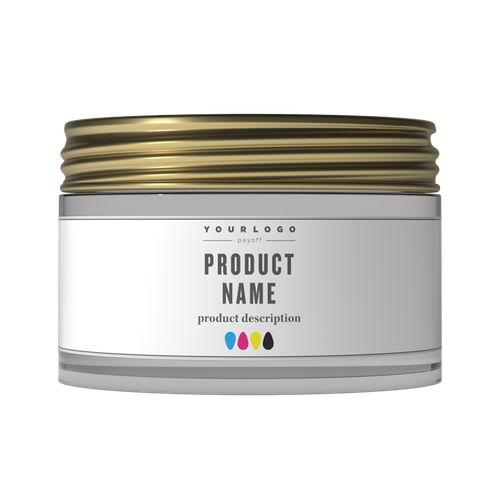 Transparent jar with golden aluminium cap
200 ml
4 colors printing