Nourishing butter face/body/hair/hands
Rich and full-bodied, this butter is quickly absorbed, non-greasy and deeply nourishing. Its innovative texture forms a film on the skin surface that isolates the skin from external agents, guaranteeing outstanding, long-lasting protection. It may be used as an intensive body treatment for dry or sensitive skin; a leave-on anti-dryness face mask, for when the skin needs a shock treatment; a nourishing, pre-shampoo pack for dry and brittle hair; a hand cream for cracked, dry hands, for maximum protection, especially during the winter months.
Bio, Face, Body, Hands, Hair, Protect, Nourish
Active substances
Emulgade sucro

natural emulsifier, it forms laminated structures similar to the epidermal structure, which facilitate the transport of nutrients within the dermis.

Shea butter

It has calming, emollient, elasticising, re-epithelising properties and is very effective in preventing redness and cracking due to cold and smog. It repairs and softens the skin, . It helps to deeply moisturise dry hair and the vitamins A, E and F it contains help to prevent split ends.

Illipe' butter

Its high fatty acid composition (palmitic, stearic, oleic, linoleic, and arachidonic acids) help to prevent dry skin and acts as a long-lasting moisturiser.
This reduces the degeneration of skin cells and restores elasticity and flexibility.
Vitamin e

it successfully counteracts excess ROS (free radicals), protecting the skin from the damage that causes premature ageing. It also has moisturising and soothing properties.

Candellila wax

rich in fatty acids and with nourishing and protective qualities.
When used on the hair, it provides radiance and makes it easier to comb.
Olivo active water leaf extract

anti-oxidant, anti-inflammatory action.
Instructions for use
As a body butter: Apply generously over the entire body, massaging in until fully absorbed As a leave-on, anti-dryness face mask: in the evenings, spread a generous layer onto the skin, massage gently and leave to absorb overnight. In the morning, cleanse the face and use your usual face treatment. As a pre-shampoo pack: Apply on dry hair and spread evenly. Leave for 5 to 10 minutes, then shampoo as normal. As a hand cream: Massage in gently until fully absorbed.
Packaging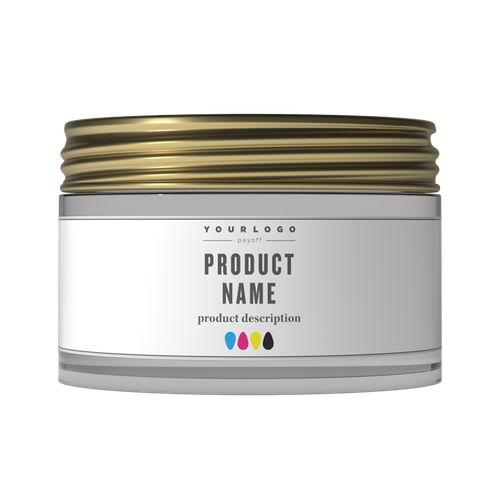 Transparent jar with golden aluminium cap
200 ml
4 colors printing