Cream scrub face/body/hair
An innovative product that combines the gentleness of a scrub with the exfoliating action of a peeling. It may be used with or without water, for a light, gentle exfoliation or for a more vigorous scrubbing effect. The microparticles of the olive kernel have variable grain size and facilitate the removal of dead cells, smoothing even the most thickened areas such as elbows and heels. The rich, melting cream base deeply nourishes the skin, leaving it soft and hydrated. It can be used as: exfoliating cream for face and body; scrub treatment for cracked elbows and heels or for removing hard skin; detoxifying peel for the scalp, successfully removing impurities without causing irritation or damage.
Bio, Face, Body, Hair, Clean, Exfoliate
Active substances
Natural emulsifier

with excellent dermal compatibility. It forms a fine, creamy emulsion.

Shea butter

with a highly nourishing action and very high unsaponifiable content (9-13%). It has calming, emollient, elasticising, re-epithelising properties and is very effective in preventing redness and cracking due to cold and pollution. Wonderful for dry, irritated skin, it repairs and softens, effectively counteracts dryness and calluses of hands, elbows and feet and is an excellent strengthening agent for brittle nails. It helps to deeply moisturise dry hair, and the vitamins A, E and F it contains help to prevent split ends.

Olive stone exfoliant powder

natural microgranules obtained from the grinding of Mediterranean olive kernels. The flexibility of the cellulose in the kernels makes these granules suitable for use both as an intensive scrub and a gentle peeling.

Olivo active water leaf extract

anti-oxidant, anti-inflammatory action.
Instructions for use
As an exfoliating face or body cream and as a scrub treatment for heels and elbows: if used on dry skin, apply on the face and body and massage using light, circular movements until completely absorbed. The particles will remain on the surface of the skin and may be removed simply by rubbing with the hands or a soft cloth. If used on wet skin, massage evenly and then rinse off. As a peeling treatment for the scalp: Use on wet hair before shampooing. Gently rub into the scalp, then shampoo as usual.
Packaging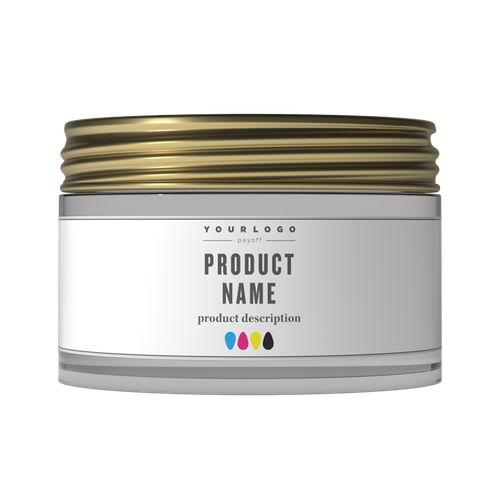 Transparent jar with golden aluminium cap
200 ml
4 colors printing