24 hour nourishing cream
A formula rich in emollient, moisturising ingredients, it nourishes deeply and regenerates the skin. Due to its complex of waxes and vegetable oils, it keeps the skin toned and elastic, preserving its natural hydrolipidic balance and protecting it from water loss and harsh external agents. Especially recommended for withered, depleted skin.
Bio, Face, Moisturize, Nourish
Active substances
Xanthan gum

natural polysaccharide produced by fermentation biotechnology from natural strains of Xanthomonas Campestris. When in contact with water, it forms a gel with excellent filming, moisturising, emollient and toning capabilities.

Candellila wax

extracted from the leaves and branches of Euphorbia cerifera, this plant has a natural wax coating that protects it from water loss. It forms a barrier against external agents, prevents loss of hydration and preserves the physiological hydro-lipid mantle, for a naturally protected, soft and smooth skin.

Natural emollient triglyceride

this natural emollient is able to form a lipid film that reduces loss of water from the stratum corneum. It also has valuable moisturising, lubricating, protective, conditioning and softening properties.

Olus oil

highly nourishing and protective purified vegetable oil, it is rich in oleic and linoleic acids. The first one, omega-9, is a constituent of the epidermal barrier and is therefore involved in preventing allergen penetration into the skin. Adequate recovery of this is particularly important in those with dry, sensitive skin or atopic dermatitis. Linoleic acid, omega-6, is an essential acid (one that cannot be synthesised by our body and must be taken in with the diet) with anti-inflammatory properties.

Olivo active water leaf extract

anti-oxidant, anti-inflammatory action.
Instructions for use
Use morning and evening after thoroughly cleansing the face. Massage gently until fully absorbed.
Packaging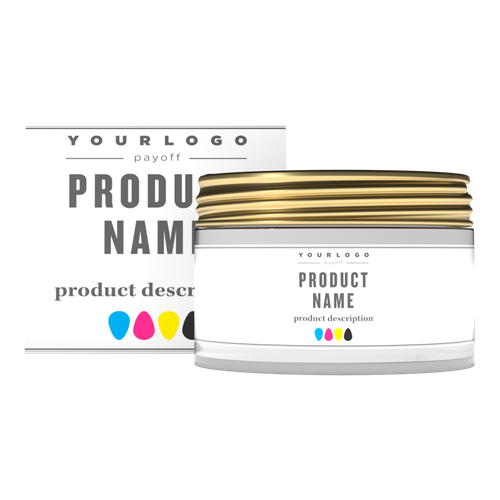 Transparent jar with golden aluminium cap and box
50 ml
4 colors printing