April 30, 2020
Cosmoprof 2020 news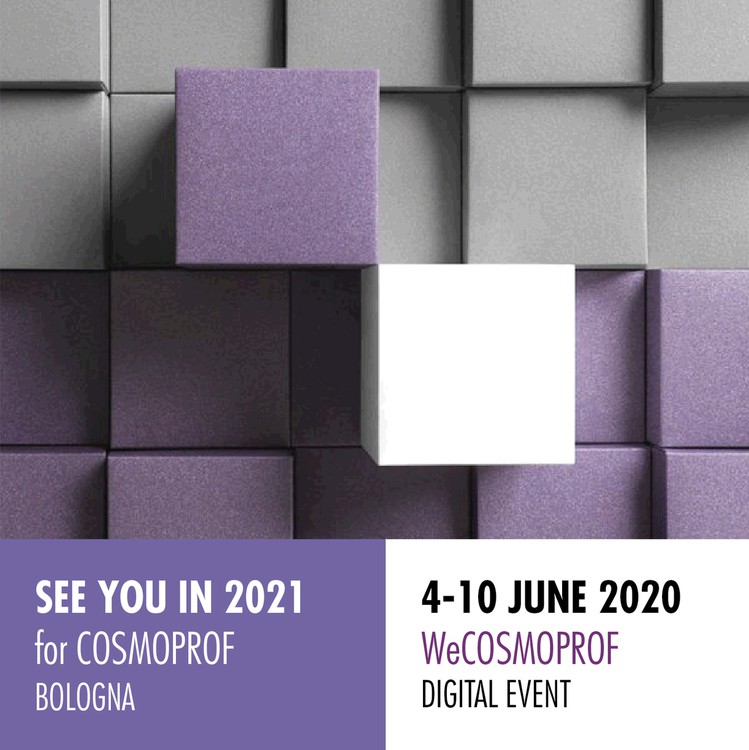 Cosmoprof Worldwide Bologna postpones the 53rd edition to 2021: the 53rd edition of Cosmoprof Worldwide Bologna, the reference event for the global cosmetic industry, will take place in Spring 2021.
"The current economic scenario and COVID19 emergency all over the world require us to postpone Cosmoprof to next year. It has been a tough decision, but our main goal now is safeguarding exhibitors and operators, allowing them to present to the market at their best and obtain the most efficient results. We will soon communicate the new dates." - says Gianpiero Calzolari, President of BolognaFiere Group. "In the meanwhile, Cosmoprof will not stop. Our goal is the revival of the cosmetic sector and, in the coming months, we will maximize our skills to facilitate the natural connection between producers and buyers, and thus give new lifeblood to the sector."
As one of the new projects aimed at helping the recovery of business relationships, from 4 to 10 June Cosmoprof Worldwide Bologna will present WeCosmoprof, a digital format, organized with the support of the Italian Ministry of Foreign Affairs and International Cooperation and ITA - Italian Trade Agency, and in collaboration with Cosmetica Italia.
"WeCosmoprof is our concrete contribution to the restart of economic activities for exhibitors and operators in our community – says Enrico Zannini, General Manager of BolognaFiere Cosmoprof. - In a scenario imposing limits on displacements and physical interactions, our role requires us to offer alternative opportunities for business relationships in the sector. WeCosmoprof will be available to exhibitors, buyers, distributors, and retailers from the Cosmoprof community. The core will be the networking between companies and operators, with the match-making services of the Cosmoprof My Match software, a consolidated tool for business relations of Cosmoprof Worldwide Bologna. Exclusive virtual rooms will be available to exhibitors and buyers, where they can have a preview of new products and services, deepen opportunities for further developments in the relevant markets, and negotiate orders and contracts. In addition to the match-making platform for B2B activities, CosmoTalks Virtual Series will offer a detailed update of the market evolution with 30 webinars. Cosmo Virtual Stage will present training sessions, focused on new consumers habits and trends.